We are sure that all you girls will agree on the fact that nothing is more important for a bride than looking her best on her best day. Be it that gorgeous heavy lehenga, top-notch jewelry to the footwear, every single thing needs to be perfect to make you look perfectly splendid.
Even though, every element of your attire, every single piece that you wear on your wedding day adds charm to your look, there is one thing that completely takes your grace to a different level. The bridal choodas are the focus of the modern era brides.
Bridal chooda's used to exist as a tradition in the Punjabi culture for ages. The Punjabi's had a wedding ritual where the uncle of the bride (mother's brother) gifts the bride a pair of bridal chooda as a blessing. The loved Mama and Mamis of the bride used to shower their blessings on the bride in a ceremony called the chooda ceremony.
The set of bangles or choodas were first washed in milk and rose petals and then were beautifully adorned by the pretty brides.
The chooda ceremony in Punjab is a very essential part of Punjabi's wedding. It is enjoyed and celebrated just like any other wedding function.
The beautiful effect and grace that a bridal chooda adds to the bride have made it popular among other religions as well. The brides all over India are crazy over this new trend of bridal choodas and so are we.
What are choodas exactly?
Even though most of you will be aware of this new bridal trend of choodas, here is a quick introduction for you in case you don't know.
Choodas or Chura is a set of bangles that cover the bride's arms on their special occasion. Traditionally, choodas were made and worn in white and red colors. However, as fashion evolved, so did the designs of choodas. Nowadays, these bridal bangles are available in all different colors, designs, patterns, etc. to suit the bride's outfit.
Bridal choodas are paired with stunning kalires tied on bangles and beautiful bridal cuff bracelets to make them even prettier.
So, let's get a look at the different amazing designs in which bridal choodas are available nowadays.
●    Old is gold
Source-Pinterest
The traditional red and white choodas, still top the list of favorite bridal choodas trend. Red has always been a symbol of love, of spirituality, of weddings and Indian brides. Red has been a traditional Indian color for Indian brides.
Traditionally, even the bridal lehengas were preferred in basic red or maroon colors.
The old traditional red, white, or maroon white choodas look exquisitely perfect in themselves. They take the bridal look to another level. It adds a different degree of grace and elegance to a bride along with a hint of culture that makes the bride stand out unique.
●    The lovely pinks
Source-Pinterest
After red and its shades, pinks are the bride's favorite color. Pink color choodas look equally gorgeous as a red one.
Moreover, if your attire is also a shade of pink, then your chooda is going to complement it in the best manner.
So, if you are planning to wear a pink lehenga at your wedding, then surely try out a few pink chooda designs to level up your bridal look.
●    Orange vibe
Source-Pinterest
Oranges are a brilliant option in the case of bridal wear or accessories. Whether you love orange and its shades or you are looking to cut the monochrome by adding a different color tone, oranges are best.
If you are planning to wear a white, pastel, or cream-colored lehenga on your wedding day, adding an orange chooda will enhance the bridal look.
●    Darker the better
Gone are the days when brides were not allowed to wear darker tones like black or royal blues. Nowadays, we see many brides rocking their special day in a black outfit or one that seems like a black.
Then, why lack behind in the case of your bridal chooda. Try out some stunning designs in our all-time favorite color black and we are sure that you will look gorgeous on your D-day.
●    That white sparkle
Source-Pinterest
White is the color of elegance and beauty. White gowns, dresses, and sarees have always been a cupboard essential for all women.
But white has become a bridal favorite as well these days. From white lehengas to white jewelry and footwear, brides love to pick shades of white to make their look even more gorgeous. So, you can wear a beautiful white chooda to look magnificent on your special day.
●    Add a hint of beaches
Source-Pinterest
Are you a beach person? Or are you a person who loves offbeat stuff? If yes, then add a hint of your character to your bridal chooda.
Wear these amazing choodas with seashell detailing to bring out your uniqueness in your look.
●    The heritage bride
Source-Pinterest
Rajasthani heritage has always dominated the bridal preferences. They look extremely gorgeous and give a bride a queen- like feel.
Wear a proper Rajasthani Chura to look like a queen on your best day. Be it Kundan or painted, Rajasthani designs look beautiful on bridal choodas.
●    Customization is the key
Source-Pinterest
Customization is preferred in every single fashion trend these days. Brides and grooms are wearing customized attires, accessories, footwear, and whatnot.
Adding a pinch of customization in your bridal chooda is a brilliant idea to look your best on your D- day.
You have various options in customization of your bridal Chura. Add the name of your better half or the names of you both, to establish the bond you share with a bang.
Nowadays,choodas with the image of the bride and groom are also becoming very popular and look very cute.
●    Hathidant kada
Hathidant kadas are also a traditional and very popular bridal element. Hathidant kadas look very elegant and graceful.
Whatever color of chooda you are wearing, adding a few hathidant kadas to your set will look brilliant and eye-catching.
●    Make it shinier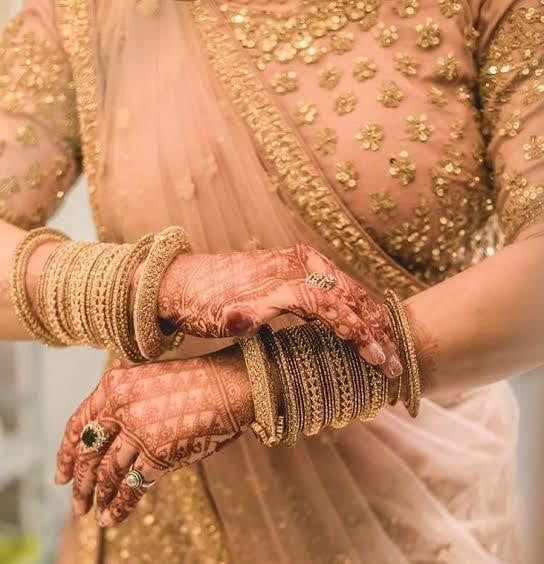 No matter how much glitter you are wearing, it is always going to be less bling for a bride. Add a hint of gold to your arms to shine brighter on your special day.
You can either add a few gold bangles to whatever color chooda you are wearing or you can go for an all gold chooda.
Anall gold look also looks stunning and elegant. Wear gold color or gold jewelry with a beautiful maang tika in gold and pair it up with golden chura to look the most stylish and regal bride ever.
●    Green magic
Source-Pinterest
Greens also look magnificent on a bride. It brings out the drama of a bridal makeover.
Add green bangles to your chooda or wear an overall green chooda, both are going to make you look prettier and bolder.
A green chooda will suit any outfit you wear. Whites, greens, reds, pinks or pastels, green choodas go well with all the colors.