Replacing doors and windows is a significant component of any refurbishing project. Among the different options available in the market, aluminum doors are currently the most popular option. No longer is it a dull grey metal. Today, aluminum doors are available in a wide range of colors, textures, and patterns. Although there are many substitutes available, like PVC, aluminum is simply irreplaceable. Here we go with the top 5 advantages that aluminum doors give you over other available options in the trade.
However, not every aluminum door is known to fit perfectly into different purposes. Here are some tips that can help you differentiate between the best aluminum doors from the not-so-best options. Be sure to read till the end to learn more in this aspect and make a proper judgment when the time buy one for your place.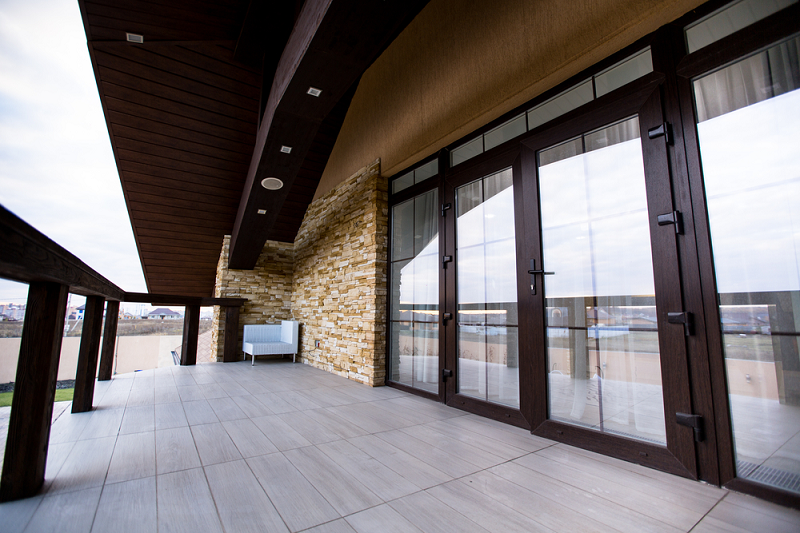 The durability of the doors and windows directly depends upon the quality of the material. Apart from wood, even metallic doors have also come up that are highly durable. Aluminum doors are one such option that has become highly popular in recent years. aluminum doors are the common choice of modern buildings.
Reasons to choose aluminum doors for your household:
The versatility of the use of Aluminum is due to its inherent properties, which include lightweight, easily moldable while at the same time being a very strong metal. Aluminum comprises just 50% of the weight of steel and therefore finds its important place in construction works when compared to steel.
Slim Framing provides larger glass areas:
Among door framing materials, aluminum enjoys a competitive edge in strength, flexibility, and toughness. Due to its uncontested resilience, aluminum doors are slim and stylish. Besides, the space provided for glass panels is expansive, providing a large canvas for any design or graphic art you would want to use to decorate your doorways. Most high-rise luxury complexes use aluminum doors to allow a large amount of sunlight into the building and provide an expansive outdoor view. The slim framing of aluminum, gives a bigger area to fit the glass than another traditional wood framing. A bigger surface of glass area gives more space to enter the natural light to enter your house.
Weather resistance and Protection against Pests:
Aluminum is renowned for its resistance to different weather conditions. Aluminum doors do not warp due to moisture, heat, or UV rays which makes them ideal for all seasons. Unlike some other metals, it does not rot or rust, therefore, exposure to the elements does not hamper its effectiveness.
Moreover, it is amazingly pest resistant, unlike commercial wooden alternatives. Overall, it is one of the most resilient framing materials for doorways.
Aluminum is also fireproof, unlike plastic, PVC, or wooden alternatives. This adds another star to its superiority over other materials used commonly in framing and making modern doorways.
Aluminum doors are Cheap and Cost-effective:
Aluminum doors are much cheaper than many other conventional materials that are available in the market. Besides, the metal is weather and fire-resistant, therefore, the maintenance costs are unbelievably low. Installing these doors is a highly viable one-time investment that provides the perfect bang for your buck in the long term.
These doors are durable, lasting for two to three decades easily without the need for extensive scale repair or maintenance. This cost-effectiveness is what makes it perfect for modern homes. When you are palling budget friendly house it is better to choose aluminum doors Melbourne and for your home. It gives a better budget-friendly option.
The color remains intact over time:
A powder coating can keep the color on aluminum doors intact for long periods. It is also straightforward to maintain, with usual cleaning practices like simple dusting methods that will restore the doors to almost new condition. Some door installation services use an anodized coating on the doors.
However, this is advised against as the same is not environment friendly in the least. The sleek coat of powder offers the same effect sustainably. Overall, these doors remain almost unblemished over time, have a futuristic outlook, and are perfect for modern housing complexes.
Energy efficiency is something that you never have to worry about again:
Aluminum is light, malleable, and can be shaped as per the requirement. This removes any concerns about energy inefficiency. Aluminum doors are highly efficient at keeping cold and moist air outside the house. This reduces your heating and power costs, thereby, increasing the efficiency of your home or office space. In-office partitions, aluminum doors can also integrate multi-pane glazing, preventing fogging and condensation on the glass.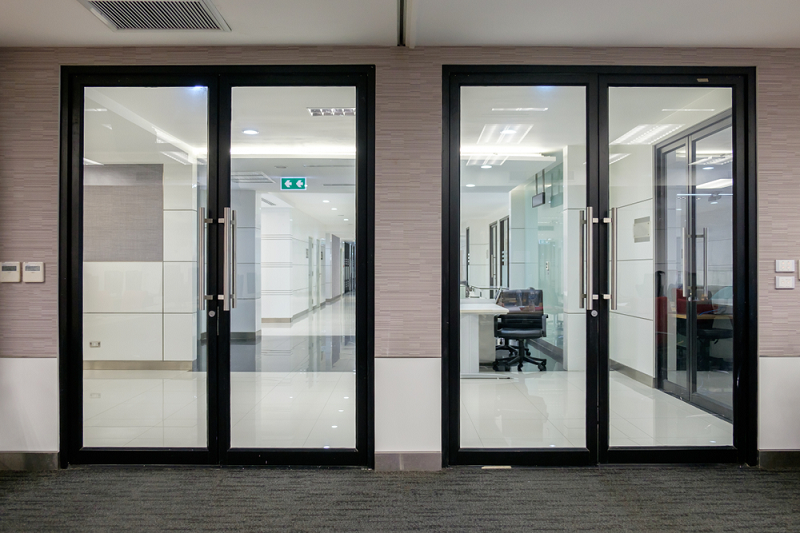 The recent decades have seen a rising demand for aluminum doors in new buildings, offices, and housing complexes. Moreover, among door materials, aluminum has proven to be excellent at solving any problem. We hope this article has been instrumental in helping you choose the best aluminum doors framing solutions for your estate.